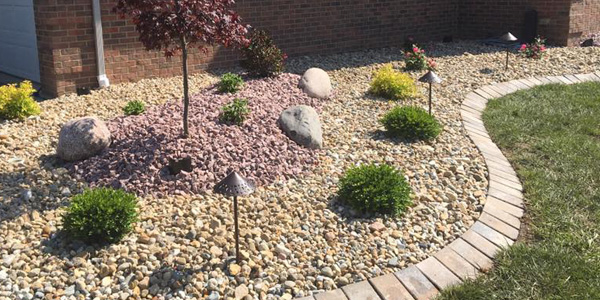 All gravel is sold & priced by the scoop, not by the ton. In order to remain compliant with the Department of Weights & Measures we can only sell by the amount of coverage not the amount of weight. This is the only way we handle bulk orders at this time.We have carefully calculated the coverage of a scoop to help you determine how much you will need.
Coverage Per Scoop
70 square feet at a depth of 2 inches
Price Per Scoop
Price Varies by Product $30 – $60
---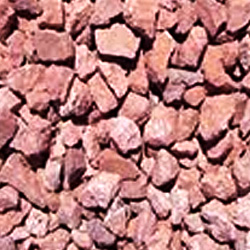 Pink Granite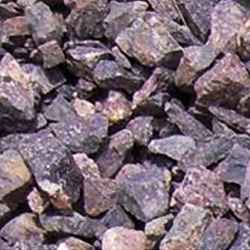 Purple Trap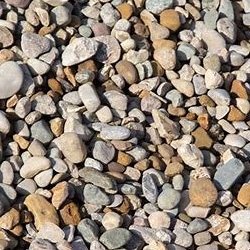 Indiana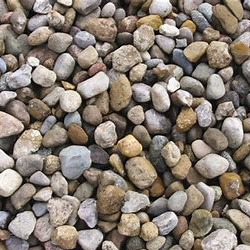 Iowa Lake
Color in the pics may vary from the actual product.
We recommend stopping by the store to look at a sample.
---
Pick Up Orders
You may pick up gravel orders during normal business hours using your truck and/or trailer.
If desired, bring a tarp to line your truck or trailer bed.
A full size truck bed or medium single axle trailer can typically hold about three scoops. Each scoop of gravel may weigh up to 1500 lbs. Sometimes the bed area may hold the gravel, but the tires may not support the weight of the load. It is always better to be safe than sorry when deciding how much to carry in one trip. Take it from us, changing a tire when carrying a full load of gravel can be tricky and a waste of time. Multiple trips are recommended if you are unsure.
Delivery
Deliveries require a minimum of 24 hours notice. We will deliver your order as soon as possible. During the busy season, we may have deliveries booked out several days in advance. To ensure you receive your order when you want it, please schedule deliveries with as much notice as you can.
Delivery rates start at $15.00 and are determined by mileage
Delivery charge is per trip
Our dump truck can carry up to 5 scoops per trip
Frequently Asked Questions
Which should I use? Gravel or Mulch?
It's up to you! Both rock and mulch provide ground covering, suppress weeds, retain soil moisture, and provide insulation. Wood mulch will eventually break down adding desirable organic material to your soil. Rock does not break down, but can wash away. Mulch is less expensive but will need to be replenished more frequently than gravel.
What size gravel is best?
For landscape use, medium to large size gravel is best. The larger gravel does not easily wash out & is easy to maintain with a leaf blower. If you will be walking on the gravel, smaller is better.